Author: Dame Esther Rantzen DBE
Published on 29 November 2021 12:00 AM
It is with deep sadness that we announce that The Silver Line Ambassador Bob Lowe has died at the age of 99.
When I first talked about the loneliness that many older people feel, including myself, the first letter I received was from Bob.
Bob had lost his beloved wife Kath from Alzheimer's, as he put it, 'after 65 years of marriage and, more importantly, 72 years since we first kissed. And she waited for me throughout the war and I for her. Loneliness, tell me about it.'
That letter inspired the launch of The Silver Line and Bob became our first Ambassador. He made an incredibly powerful and moving film for Sport Relief, and the poem he wrote about his loneliness since losing Kath went viral – bringing a film crew from Australia to his door because it resonated with so many lonely older people: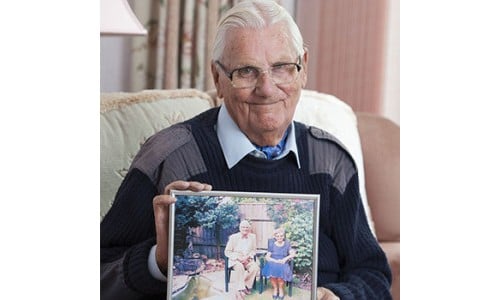 The rooms are empty, there's not a sound
Sometimes I'm lost and wander around
To look for jobs that I can do
To bring back the days when we were two….
And it ends:
"Kath said to me some time ago
Darling when the time comes for us to go
Let's mix our ashes and be together
So we can snuggle up for ever and ever.
Bob was made Citizen of the Year in New Milton in 2014 and would have been 100 on 21 December 2021. He brought This Morning's Phil and Holly close to tears with his eloquence and received a Points of Light Award from the then Prime Minister Theresa May.
Through his bravery and eloquence, Bob raised millions for charity and will be remembered by all of us in The Silver Line with love and gratitude.