Connecting the generations through Silver Stories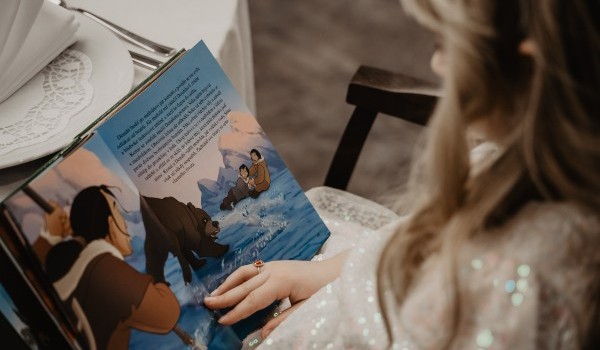 Author: David and Elisabeth Carney-Haworth, founds of Silver Stories
Published on 20 May 2020 12:00 AM
Old and young can become great companions – each giving the other a new way of seeing the world.
By sharing stories over the phone as part of Silver Stories – an independent organisation set up by David and Elisabeth Carney-Haworth – children and older people are finding another great way to connect. We asked David and Elisabeth to tell us more about their scheme.
Sadly, many older people go without talking regularly to another person, and millions struggle with loneliness. Feeling lonely can affect our health, wellbeing, productivity, immune system and self-esteem. It's also been linked to early death and an increased risk of coronary heart disease, stroke, depression, cognitive decline and Alzheimer's.
Silver Stories was set up in 2015 as a scheme pairing children with older, isolated or less able members of the community to read a story or poem over the phone.
For the Silver Readers (children), the scheme helps improve their reading, literacy and communications skills, while for the Silver Listeners (older people) the regular intergenerational contact helps tackle feelings of loneliness and social isolation.
From both sides of the project, there has been nothing but praise. The children are thrilled to take part and express their joy at giving someone else pleasure through reading. The Silver Listeners have described Silver Stories as 'the highlight of my week' and something that they look forward to for days.
Dame Esther Rantzen, the founder of The Silver Line, has been involved with Silver Stories since it began. Recently, she received a call from Silver Readers Holly, 6, and Robert, 7.
"Holly told me she likes to read to older people, 'because it's a time when they can relax and have a cup of tea and a biscuit,'" Esther said. "Robert added, 'and because we can talk to them and make their day.' When I revealed my age they responded with a satisfying 'Wow!'
"I shocked them by revealing that when I was young there was no television, and I didn't eat a banana until I was 6. I explained it was due to the second world war, and they sang me the song they've been practising for their Remembrance Service, We'll Meet Again. The whole conversation was a delight."
Find out more about Silver Stories
If you're interested in getting involved in Silver Stories or know someone who might be, all that's needed to take part is a comfy chair, a phone and a willingness to listen to a great story! Find out more at www.silverstories.co.uk
Silver Stories is an independent charity, Reg. No. 1188312