Helen, who is one of our Silver Line Helpline volunteers, shares her story of helping older people to feel listened to and acknowledged – and learning more about herself in the process.
"I love talking to people, particularly older people.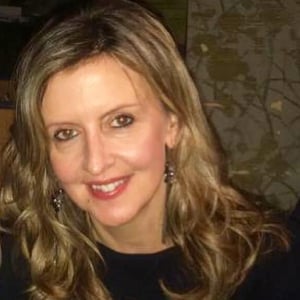 "I was a carer for my mum when she was alive and I'm currently a carer for my brother. Now, since volunteering with The Silver Line, a lot of the topics that I'm discussing on calls cross over with my own life.
"Sometimes a call will help me as much as the person on the other end of the phone."
Talking to people from all walks of life
"I talk to a variety of people and have even gotten to know some of our regular callers.
"Many of our callers have suffered some form of bereavement and I try my best to support them with their grief. Having lost family members myself, I can empathise with their feelings of loss.
"Some people love to call and have a little catch-up, to express their thoughts on world issues, or simply just want someone to talk to. A lot of our callers live by themselves and many feel lonely due to this.
"Some callers are very elderly and many who I've spoken to are incredibly resilient and provide such wisdom. Often, I feel The Silver Line is helping me to appreciate life more as I try to provide support to our callers."
Listening to callers and chatting through issues
"Many of the people I speak with express how The Silver Line is the only place they can come to talk to someone.
"Sometimes people call us wanting specific advice but I see our role more as listening and acknowledging their concerns. Personally, I don't like to give advice – I am there to facilitate their thought process, and it feels more rewarding to me.
"The people I speak to tend to like the fact that by the end of the conversation, they've been able to reach their own conclusions or make a decision and they'll end the call by saying, 'Thanks for listening, I feel much better now'."
Volunteering for The Silver Line has opened my eyes
"What I like about volunteering for The Silver Line Helpful is the variety of people I get to speak to.
"In the beginning, I didn't think it would be for me. I thought maybe a one-to-one situation would be more suitable for my personality.
"Since then, I've branched out into talking to different types of people, with different mental health issues, family issues, and emotions.
"It's been so rewarding; in fact, it's made me think that counselling might be an area I'd like to go into. Volunteering with The Silver Line has opened my eyes to that."
Encouraging others to call and volunteer
"I try and remind the older people in my life that if they ever want to talk, they can just pick up the phone and speak to The Silver Line. Sometimes friends and family can feel 'too close' or the older person may want to talk at an inconvenient time of the day or night.
"I tell them: 'You can just off-load – they will always listen and it's a friendship service too, so you can build a good rapport.'
"Of course, The Silver Line doesn't just help the older people who call us – it does so much for the person who's volunteering too. Volunteering for The Silver Line really teaches you the importance of the basic things in life.
"In my eyes, if you ever want to know that you're doing something that's making some little bit of difference, you get that straight away with The Silver Line. I always come away from volunteering thinking that at least I've helped someone."
My own silver lining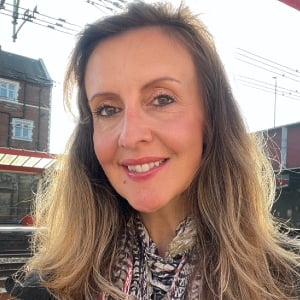 "I would say that for me, The Silver Line has been my own silver lining because it's made me feel more present in the everyday.
"A lot of callers have told me that The Silver Line is like extended family and that's fantastic to hear. But it's also a two-way thing, for those who love calling and those who enjoy answering calls; it's a win-win!
"The Silver Line Helpline is such an important service and I think people are still finding out about it when I speak to new callers. This helpline is a lifeline for many, and I hope more people will get to hear about it."
The Silver Line Helpline is a free, 24-hour confidential telephone support service for older people.
We offer older people the chance to have a conversation, access support, and enjoy all the wonderful benefits that come with talking to a trusted friend.
If you're an older person in the UK, you can call us free on 0800 4 70 80 90 at any time of the day or night.
More from The Silver Line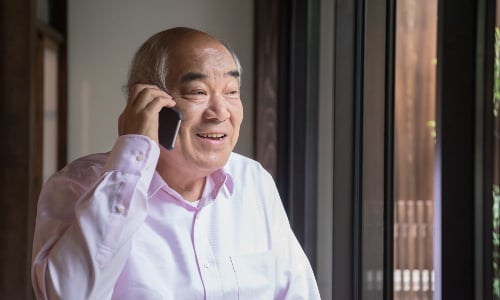 Become a part of The Silver Line story and support older people by offering them friendship, conversation and connection.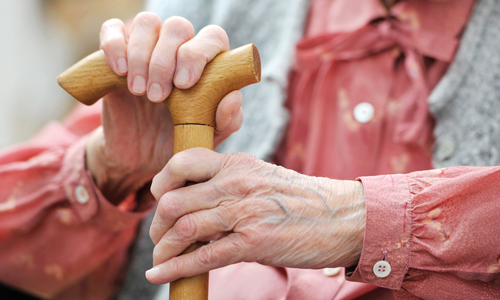 Rachel began calling The Silver Line when she was going through a difficult time. She believes that without this support, she wouldn't be here today.